How to set up and use Siri
Siri, a speech-recognition software that lets you control your iPhone by voice, has improved with each new release of iOS. The voice assistant helps you in various ways: make calls to specific contacts; send email messages; search for a restaurant nearby and navigate you to the address.

This section explains how to set up and talk to Siri, and introduces actual conversations with her.
Set up Siri
On the Home screen, tap "Settings" > "General" > "Siri" to open the Siri settings screen.
Turn on Siri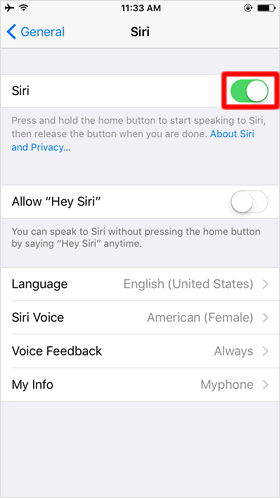 Tap the "Siri" toggle switch to the on position. This will allow you to use it right away.

Before enabling the feature, just make sure your iPhone is connected to Wi-Fi or a cellular network.
Enable "Allow Hey Siri"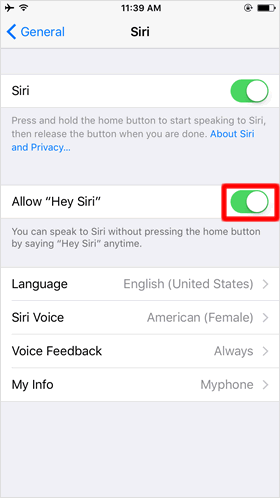 Turn on "Allow Hey Siri", which lets you activate Siri by just saying "Hey Siri" without touching your iPhone.

* On earlier devices (than iPhone 6s / 6s Plus), "Hey Siri" works only when they are plugged in.

⇒ How to set up and work with "Hey Siri"
Language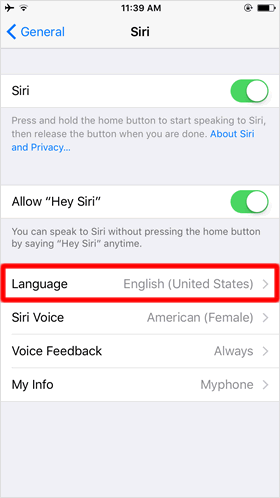 Siri currently supports 16 languages including English, Japanese, French, Spanish, Chinese etc.

Using Siri as a language learning app would be exciting, challenging Siri with questions or requests in a foreign language and see how much she understands you.
Siri Voice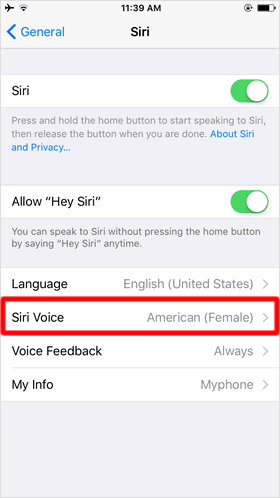 You can change the voice gender of Siri from the default female to male.
Voice Feedback
While Siri is known as a voice-assistant program, you can set it to silence to only show text response, or set it to provide voice feedback only when using headphones or a Bluetooth device with your iPhone.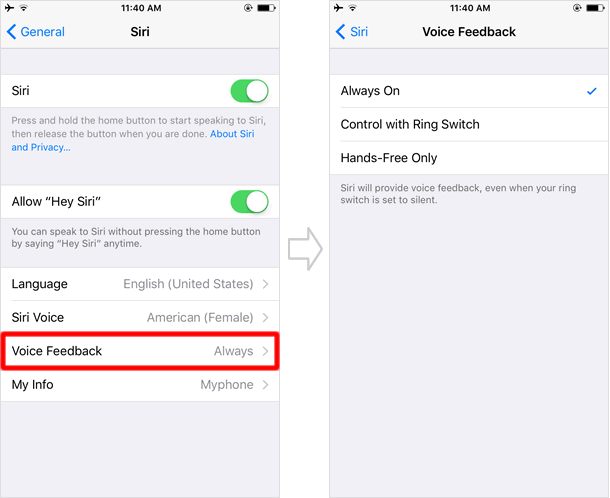 "Always On" - The voice feedback feature is always activated even when the iPhone is in silent mode.

"Control with Ring Switch" - Siri voice can be turned on/off by pressing the Ring/Silent switch located on the side of the iPhone. However, when you are using the "Hey Siri" feature or talk to her through your headphones mic, she will give you her audio comments even in silent mode.

"Hands-Free Only" - This option will tell Siri to give you audio feedback only when you are using the "Hey Siri" command, and when the iPhone is connected to your headphones or Bluetooth headsets.
My Info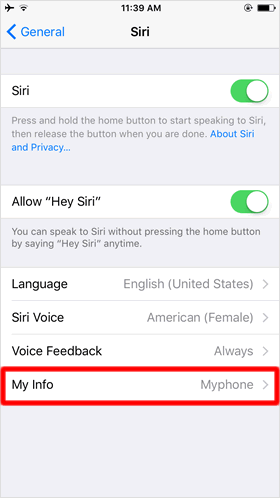 Under "My Info", choose your name from the Contacts list so that you can tell Siri which contact is yours. This will allow Siri to accommodate your requests with your personal details such as:

"Navigate me home."
"Remind me to call mom when I get to the office."

In order to have Siri learn more about you, it is recommended that you add your basic information to your own contact card including home address, office address, phone number as well as your family members' information.
Enable Location Services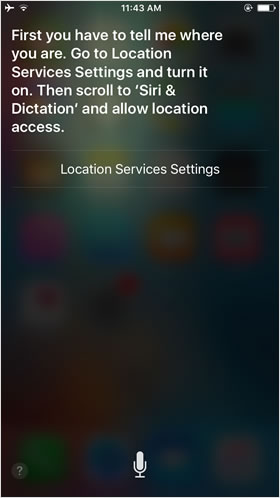 Siri uses Location Services when giving you location-based information such as your local weather, restaurants and other businesses near you. When the Service is disabled, she cannot answer your questions like "Will it rain tomorrow?" or "What's the best Italian restaurant nearby?"
To enable the function, open the "Settings" app on the Home screen, and go to "Privacy" > "Location Services". Once "Location Services" is turned on, all your apps using Location Services will be listed on the screen. Then tap "Siri & Dictation" and place a checkmark next to "While Using the App".
Now you can get appropriate answers from Siri for your location-related questions.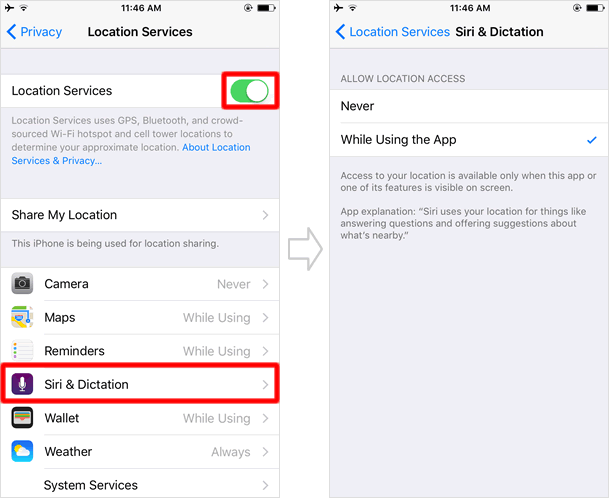 How to use Siri
Activate Siri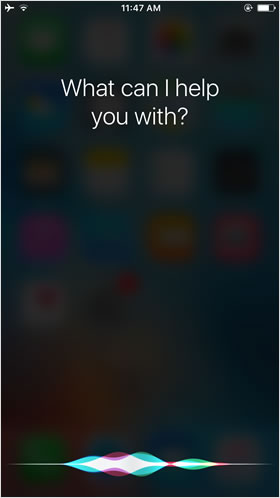 To call up Siri, either say "Hey Siri" or hold down the Home button.

When Siri is activated, try speaking to her.
Stop Siri from activating when screen is locked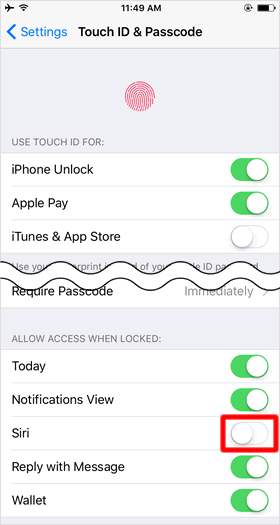 Siri works from the locked screen (in sleep mode) by holding down the Home button to summon her.

If you do not want Siri to work when the iPhone is locked, you can disable the ability via the "Settings" app: Go to "Touch ID and Passcode", and turn off the Siri switch under the ALLOW ACCESS WHEN LOCKED section.
Tap mic icon to continue conversation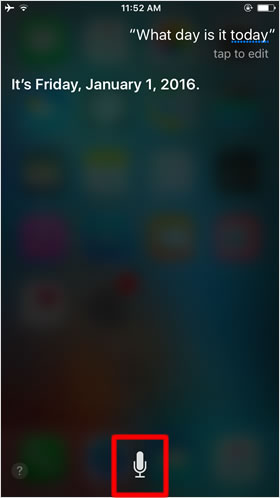 To ask Siri another question, tap the microphone icon and then speak to her.
Talk to Siri while holding the Home button
Siri is showing results as soon as you stop speaking to her. If you have even a very short pause between words, that makes Siri to think you are done and she will answer your question. However, it sometimes happens that you are uncertain about what to say during a conversation with her and need more time to consider your question.

To avoid this frustration, speak to her with the Home button held down until you are completely finished with that question, and then release the button. This may be helpful especially when you are not sure how or what to ask Siri, making it possible for you to speak at your own pace.
Edit your voice command
When you give Siri a voice command, sometimes she does not understand what you are saying and does not respond to you properly. In such cases, you can just tap the text (what Siri heard) and edit it with the keyboard. If the text is not displayed, swipe down the screen from the top to view the words.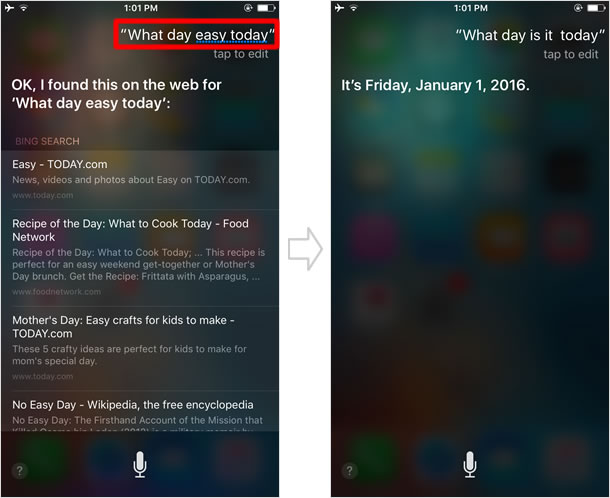 What Siri can do for you
There are dozens of things you can ask Siri and here are some examples of what Siri is capable of.
■ Settings
"Make the screen brighter"
"Turn on Do Not Disturb?"
"Enable Wi-Fi"

■ Phone
"Get my call history"
"Redial that last number"
"Call 911"
"Call Mom on her work phone"

■Apps
"Launch LINE"
"Search the App Store for cooking apps"

■ Twitter
"Tweet with my location having a great vacation with my family"
"What's the latest in San Francisco?"

■ Facebook
"Post to Facebook ......"
"Write on my timeline ......"

■ Eail
"New email to ......"
"Any new email today?"

■ Clock
"Wake me up tomorrow at 8 am"
"what time is it in Berlin?"
"Set the timer for ten minutes"
"What's the date this Saturday?"

■ Calendar
"Set up a meeting with ...... at 9"
"When is my next appointment?"

■ Reminders
"Remind me to FaceTime mom when I get home"
"Add iPad mini to my bucket list"
"Remind me to take my medicine at 9am tomorrow"

■ Maps
"Give me directions home"
"Fine coffee near me"

■ Music
"Play the top 10 hip-hop tracks"
"Play more from this artist"
"Shuffle My roadtrip playlist"

■ Weather
"what's the weather for tomorrow?"
"When is sunset in Maldives?"
"Should I bring an umbrella today?"

■ Messages
"Tell ...... I'll be right there"
"Read my new messages"

■ Notes
"Read my note about story ideas"
"Note that I spent $ 20 on lunch"

■ Contacts
"Find people named ..... "
"Call my brother at work"

■ Sports
"Who has the most home runs on the Giants?"
"When is England's next match?"
"Show me the football scores from last night"
Features