New iPhone 6s feature - Use Live Photos
With the iPhone 6s and 6s Plus, Apple introduced a new feature called "Live Photos", which brings your still images to life by capturing a second and a half of motion and sound before and after you press the shutter (three seconds in total). As its name suggests, "Live Photo" is a "living photograph (moving photo)", neither a normal photo nor a normal video.

It is difficult to describe in words, so watch this official hands-on video showcasing Apple's new Live Photos in action on the iPhone 6s. Here is what they look like.
Devices that support Live Photos
While only the iPhone 6s and 6s Plus can take Live Photos, they are viewable on devices running iOS 9 (iPhone 5s or later), Apple Watch with watchOS 2 and Macs using OS X El Capitan.
Enable/Disable Live Photos
On the Home screen, open the Camera app. Live Photos, which is on by default, can be turned on/off by tapping the Live Photos button on the top-center of the screen (If it's yellow, it's on. If it's white, it's off).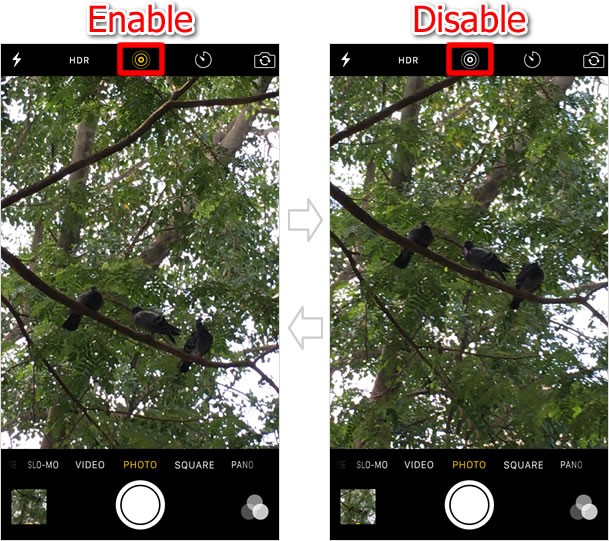 Take Live Photo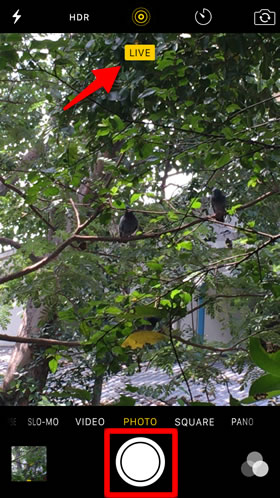 When you tap the Take Picture button, as you tap it to take a normal photo, Live Photos starts capturing a subject. As Live Photos records a moving image of three seconds before and after you tap the button, for better results, you need to hold your iPhone steady while shooting.

During a Live Photos recording, the word "LIVE" in a yellow box is on the screen. When recording is finished, you hear an electric sound, and the sign will disappear from the screen.

No shutter sound will be heard.
Take selfie with Live Photos
Now, Live Photos taken with the iSight camera (on the rear) are available only in "Photo" mode, and "Square" and other modes are not supported for this feature. However, you can take a Live Photo with the FaceTime camera (on the front) too, allowing you to make your selfie more fun and exciting.
Play Live Photo on recording screen
To view a Live Photo, tap the thumbnail image at the bottom left. By pressing down hard and holding on the screen, you can see the Live Photo start playing along with the audio.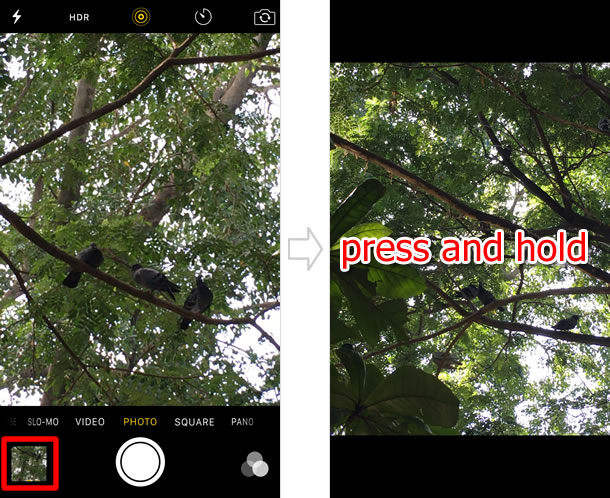 Play Live Photo on Photos app
Open a Live Photo in your "Camera Roll" or "Moments" in the Photos app. To open the full screen view, either tap the thumbnail image of the Live Photo, or press lightly to Peek at it and press harder to Pop into it. Then press down and hold on the full-screen photo to start the Live Photo animation.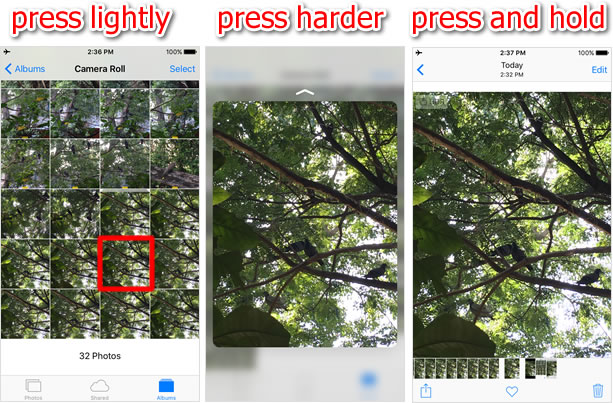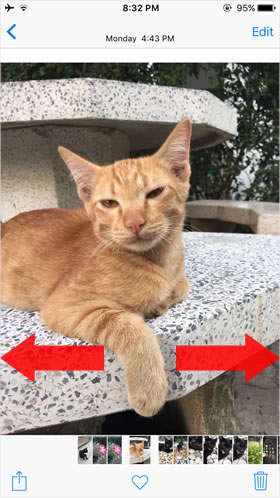 "Press and hold" is not the only gesture to see your Live Photos in action. When you swipe through the full-screen photos to switch between the images, they do move, but very slightly.

As Live Photos played by a press and hold look somewhat the same as normal videos, you may feel this is more entertaining.
Send Live Photos via iMessage
You can share your Live Photos via iMessage with devices running iOS 9 or watchOS 2, and Macs with OS X El Capitan, on which Live Photos can be viewed as animations. So far, the feature is not available for any third-party apps such as Facebook, and shared Live Photos are displayed as still images on those apps. However, as Apple has released the API for Live Photos, third-party app developers, like Facebook or LINE, will soon integrate the feature into their apps.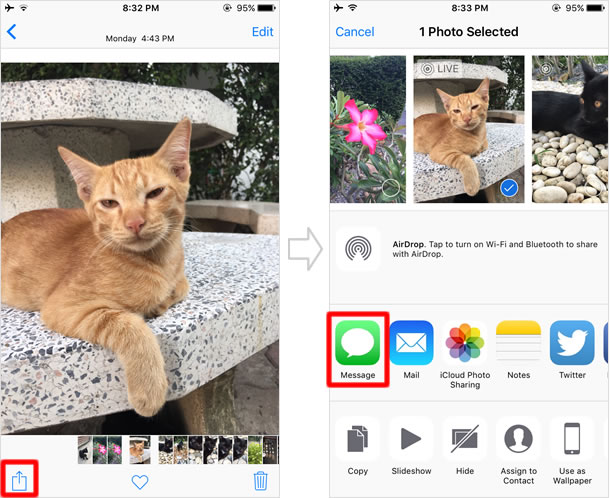 iPhone 6s