How to use "Reachability" conveniently and how to turn it off
While the iPhone 6 and the iPhone 6 Plus have come with large displays, that can make it difficult to use them with just one hand. Especially in the 5.5-inch display iPhone 6 Plus, it is almost impossible to do all with just one hand, no matter how hard you try. So, the feature Apple has introduced in the two models is "Reachability".
How to enable the Reachability mode
Reachability is a quite simple feature, where you lightly tap twice on the Home button to slide the top half of the screen down, so you can reach the upper icons with your thumb.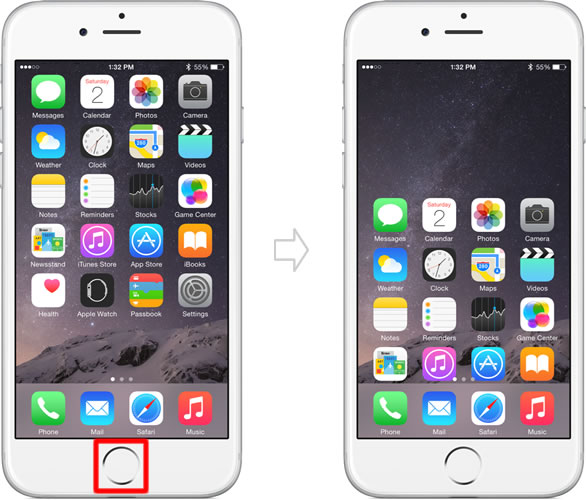 For your information, if you "press twice", instead of "tap twice", the Home button, it takes you to the multitasking screen.
Reachability is useful especially in the following situations:
To scroll to the top of a web page in Safari
If you tap the status bar (in case the address bar is hidden, tap twice on the status bar) while viewing a web page in Safari, even if viewing the lower section of the page, the page will quickly scroll back up to the top.

When you use your iPhone 6 / 6 Plus with one hand, and if the status bar is hard to reach with your thumb, tapping the status bar in the Reachability mode "to scroll to the top of a page" will be more convenient.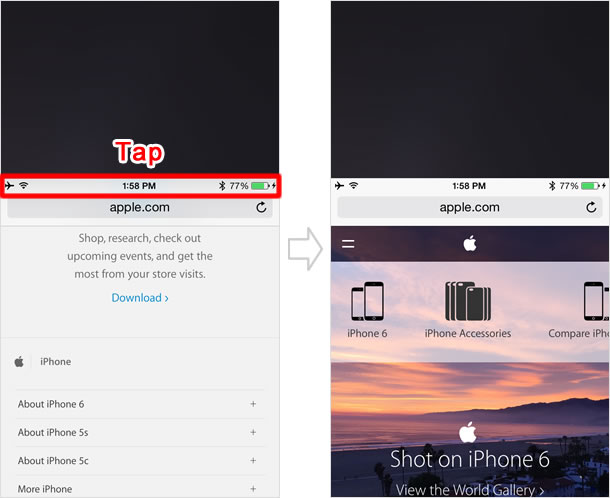 * The feature with the tap of the status bar to jump to the top of a page works in Safari and also in other apps.
To open Notification Center
You can open Notification Center also in the Reachability mode. To open it, you normally swipe down from the top edge of the screen. However, in the Reachability mode, you can access Notification Center also by swiping down around the arrow as shown in the image below.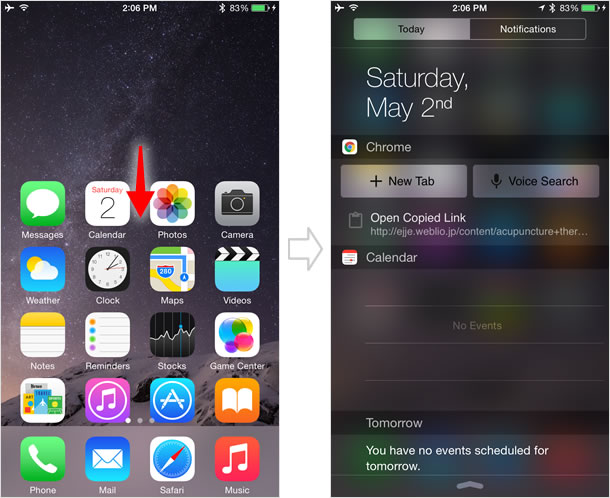 How to return to the normal view
Reachability view will return to the normal view either by:
- Lightly tapping twice on the Home button again.
- Tapping the empty space at the top of the screen.
Or, if you don't touch anything on the screen for 7-8 seconds after activating Reachability, the content will automatically slide back to its normal position.
How to turn off Reachability
While Reachability is a useful feature, there could be many people who have little occasion to use it. Also, it often happens that the Reachability mode is unexpectedly enabled by accidentally double-tapping the Home button.

So, if you don't need the feature, you can turn it off in the setting.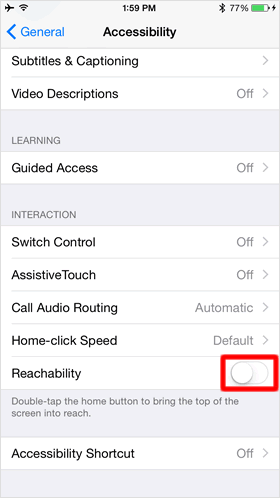 On the Home screen, tap [Settings] > [General] > [Accessibility]. Then, scroll to the bottom where a toggle for Reachability can be found. Turn the [Reachability] toggle switch to off.
Features