iOS 9 - New feature in Photos app: Select multiple photos with swipe gesture
iOS 9 allows you to select multiple photos or videos at once by swiping through on the thumbnail images. That means, when you want to remove a bunch of photos or videos, or add them to albums, you no longer have to tap the thumbnails individually to select them. Make a quick selection of your photos with this swipe-to-select gesture.
Tap "Select"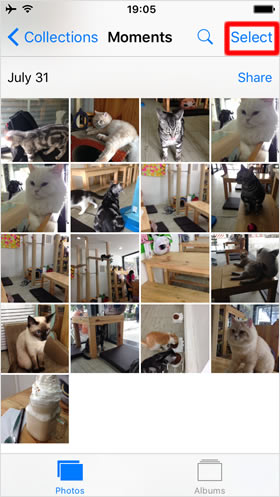 Open Camera Roll or Moments, and then tap "Select"
Swipe horizontally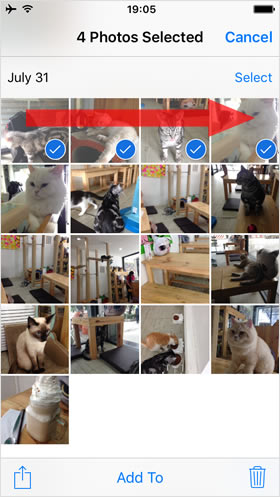 Swipe horizontally (left or right across the screen) through photos or videos that you want to select. Now you can see the thumbnail images get selected one after another.
Plus, swipe vertically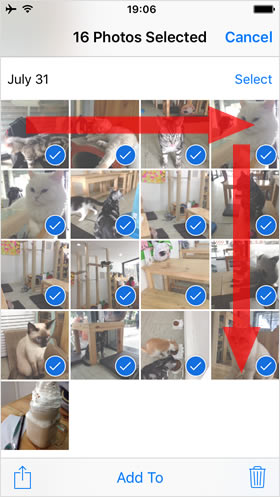 If you still hold the screen, do not lift your finger and swipe vertically on the thumbnails to select all the images shown on the screen.
Swipe backwards to deselect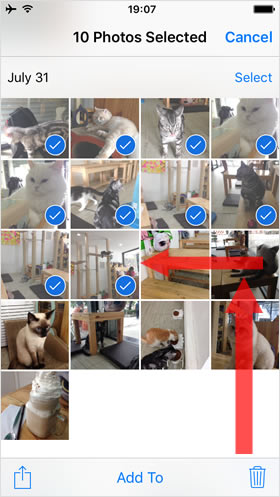 If your finger still stays on the screen, and you think you have selected too many images, then swipe backwards to unmark them.
Starting a selection with a vertical swipe just lets the screen scroll...
Even though you lift your finger from the screen while swiping through to select or deselect images, you can still select or deselect the following images by restarting the selection/deselection from the next image of the marked/unmarked thumbnail. However, if you start your selection with a vertical swipe, then the screen only goes up/down, because that is a normal swipe gesture.
iOS 9