Adjust 3D Touch sensitivity
3D Touch is a new feature found in the iPhone 6s / 6s Plus. Since 3D Touch is a whole new way of interacting with your iPhone, sometimes it may work in an unexpected way, or you may even not know when you can use Peek or Pop. It may take a certain amount of time before you get familiar with the 3D Touch gesture.

If you experience too much difficulty with the feature, you had better check your current settings, or you can even consider disabling it, under Accessibility in the Settings app.
Open Settings app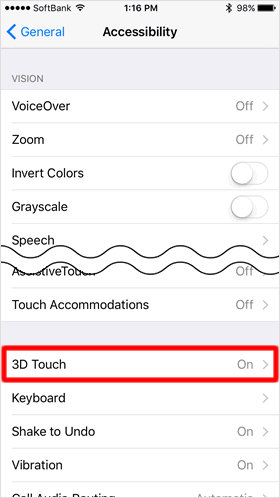 On the Home screen, tap "Settings" > "General" > "Accessibility" > "3D Touch".
Adjust 3D Touch sensitivity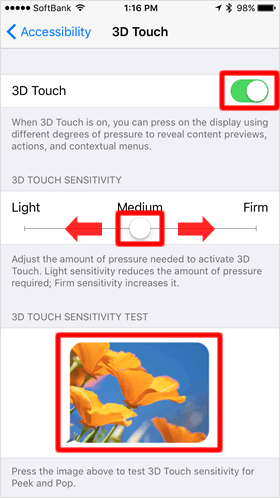 On this screen, you can disable 3D Touch by turning the toggle switch to off.

There are three levels of pressure sensitivity, Light, Medium and Firm. After selecting one of the options, try it out on the sample image provided at the bottom.

This way, you can test the different levels of sensitivity to see which one works best for you.
iPhone 6s