Turn iPhone 6s keyboard into a trackpad
Before the iPhone 6s / 6s Plus debuted, when moving the cursor to type or select text, you might have felt the usability was not good enough. Actually, it is not too much to say that the usability was one of the weakest points of the iPhone.

However, the new 3D Touch feature introduced in the iPhone 6s / 6s Plus may deliver an entirely new experience for its users. Anyone with the new handset will have the ability to use the keyboard as a trackpad!
Press hard on keyboard
Open any app that you can type in like Notes, type whatever you want, and press hard on the keyboard.Then, the keyboard will turn into a trackpad, allowing you to move the cursor through your finger movements.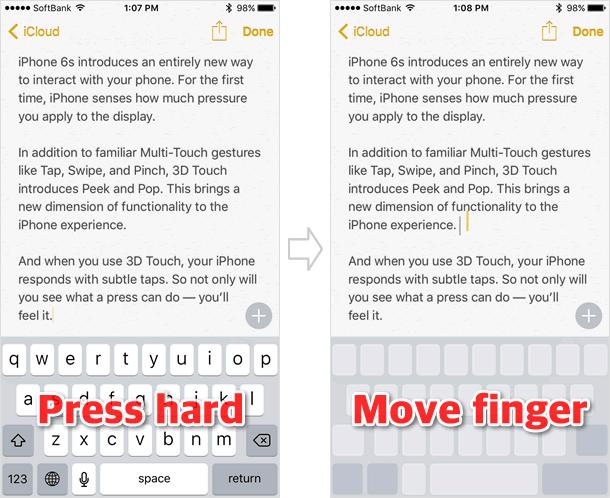 Select word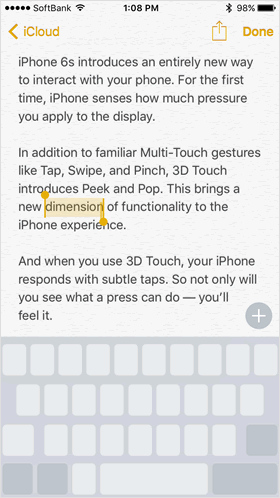 To select a word, move the cursor to the desired word, and without lifting your finger from the screen, press hard on the trackpad.
Select sentence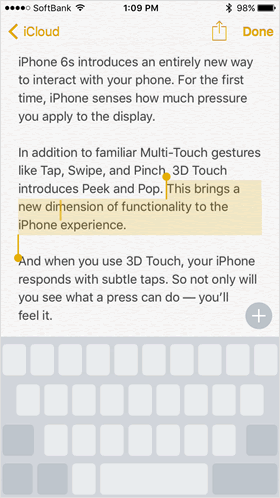 Then, if you press hard on the same area again, you can select a sentence.
Select paragraph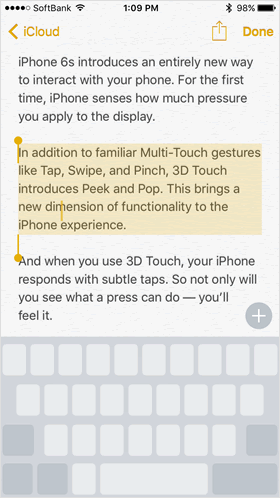 An additional hard-press of the same area allows you to select a paragraph.

When you select a word, sentence and paragraph, maintaining a fast and smooth pace for each operation (press hard on the trackpad) is the key to the success of this selection flow.
Select specific area of text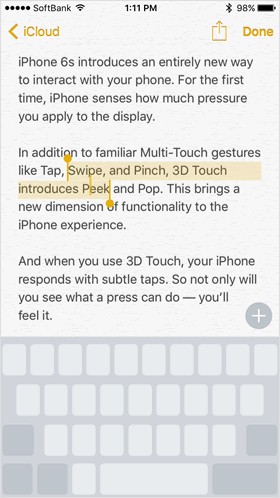 You can select a single word by placing the cursor anywhere on the text and press hard on the trackpad. Then, with your finger pressing down hard on it, if you move your finger over the text, highlight on the text follows the movement, selecting a series of words.

You can only select word, not letter, with this operation. If you want to select a letter or a sequence of letters, you will have to highlight it/them in the same way before upgrading to iPhone 6s / 6s Plus.
Edit menu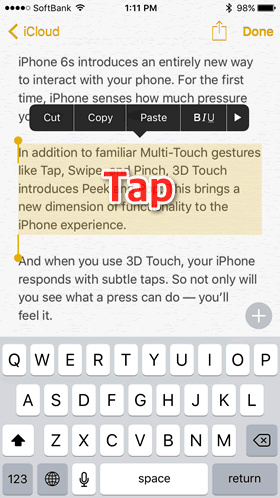 If you tap on the text that you highlighted with the trackpad, then the edit menu will appear on the screen.
Easy operation in narrow area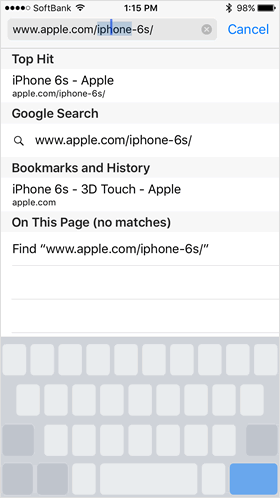 This trackpad helps you move or position the cursor effortlessly even in a narrow area, such as the address bar in Safari.

3D Touch, what an amazing feature...
iPhone 6s